A fan filter unit, or FFU, is essentially a filtered laminar flow diffuser with an integrated fan and motor. The integrated fan and motor provide enough static pressure to overcome the pressure drop of the internally mounted HEPA or ULPA filter.
Applications
Typical applications of fan filter units include:
● Hospital pharmacies
● Pharmaceutical compounding areas
● Microelectronics or other sensitive manufacturing facilities
Fan filter units are used in both retrofit applications where supplemental fan power is required to overcome filter pressure drop, and new construction applications where high air change rates and ultraclean environments are required.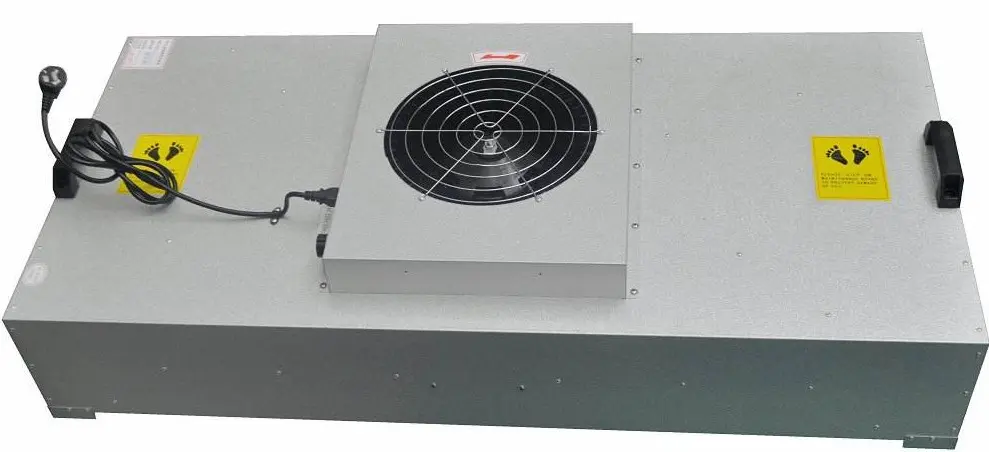 Configuration Options
Size: FFUs are typically available in three sizes - 2 ft. x 4 ft., 2 ft. x 2 ft., and 2 ft. x 3 ft - and are designed to fit a standard suspended ceiling grid. FFUs are typically sized for 90 -100 feet per minute filter velocity. For the most popular size of 2 ft x 4 ft, this equates to 480 cfm for a room-side replaceable filter model.
Filter Efficiency: Two types of filters are available depending on the level of filtration required - HEPA filters are 99.99% efficient at 0.3 microns particle size, while ULPA filters are 99.9995% efficient at 0.12 microns.
Filter Type: Filter changes are a necessary part of regular maintenance. There are two different FFU styles available that facilitate filter replacement in different ways.
● Room-side removable units feature an integrated knife edge that engages with the filter gel seal to prevent bypass and allow access to the filter from the room side without compromising the integrity of the ceiling.
● Benchtop replaceable units must be removed from the ceiling in order to replace the filter. Benchtop replaceable filters have 25% more filter area which allows for higher airflow rates.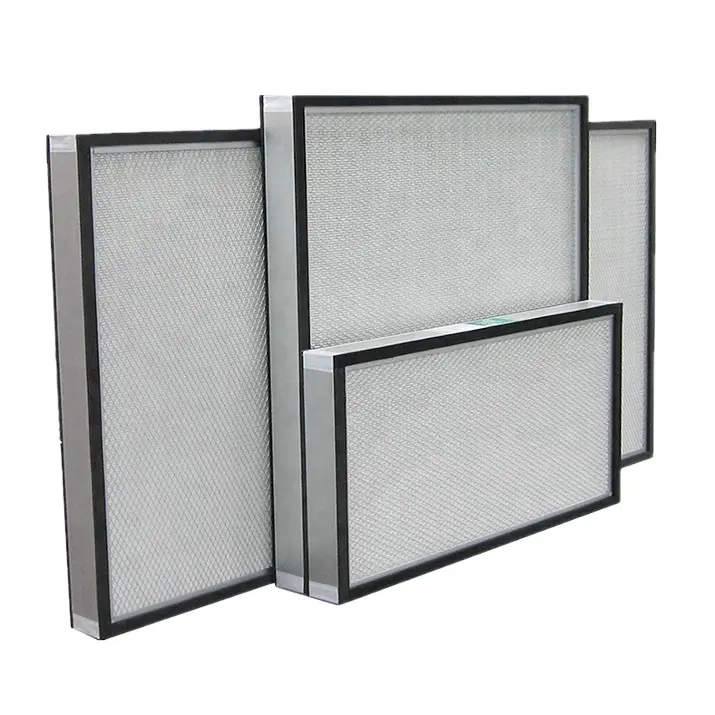 Motor Type:
● Permanent split capacitor (PSC) motors, or AC induction type, are the more economical first-cost option.
● Electronically commutated motors (ECM or EC motor), brushless DC type, are the higher efficiency option with onboard microprocessors that optimize motor performance and allow for motor programming. Thanks to improved efficiency, the cost difference between a PSC and ECM is typically paid for within the first year of operation.
EC Motor Programs:When using an ECM, there are two available motor programs.
● The constant torque program maintains the torque, or rotational force, on the motor independent of static pressure that builds as the filter loads. To maintain constant airflow through the FFU with a constant torque program, an upstream pressure independent terminal or venturi valve is required.
● The constant flow motor program maintains the airflow rate of the FFU as the filter loads, and is commonly used with negative pressure plenum designs. An FFU with a constant flow program should not be directly ducted to an upstream pressure independent terminal device, as this causes both smart devices to fight for control and can lead to airflow oscillation and poor performance.

Static Pressure vs. Airflow Rate for the Constant Flow and Constant Torque Motor Programs
Wheel/Blower Type:
● Forward curved wheels are the standard option and are compatible with the ECM and constant flow motor program.
● Backward curved wheels, although not compatible with the constant flow motor program, are a more energy efficient option.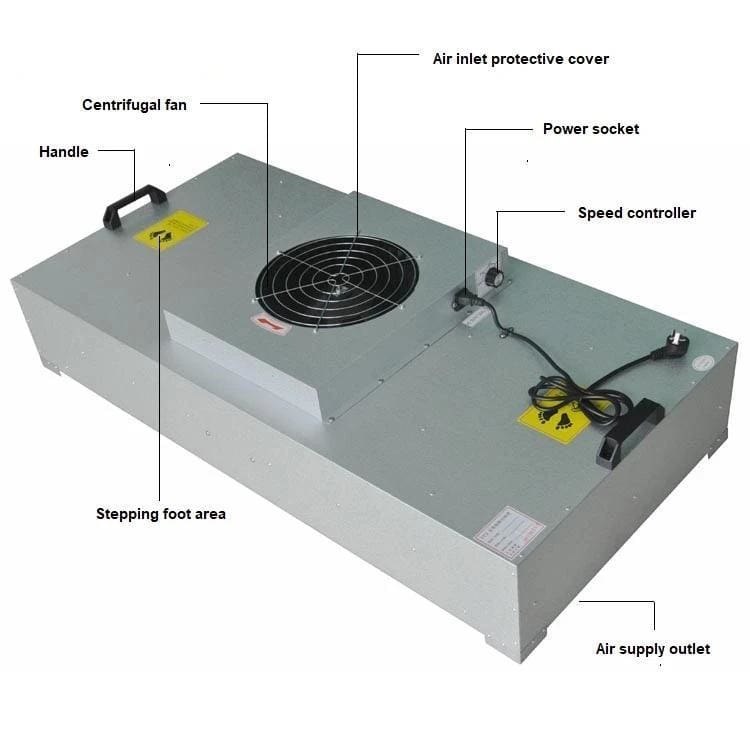 Anatomy of a Fan Filter Unit
Flow Direction:
● Supply flow is by far the most common type of fan filter unit. In this configuration airflow is drawn in through the back/top of the unit (either from a ducted connection or a non-ducted common plenum) and supplied to the space with a laminar airflow pattern.
● Optional exhaust/reverse flow units draw contaminated room air through the perforated face and HEPA filter and exhaust the air to the outside or return it to the space (for recirculation applications).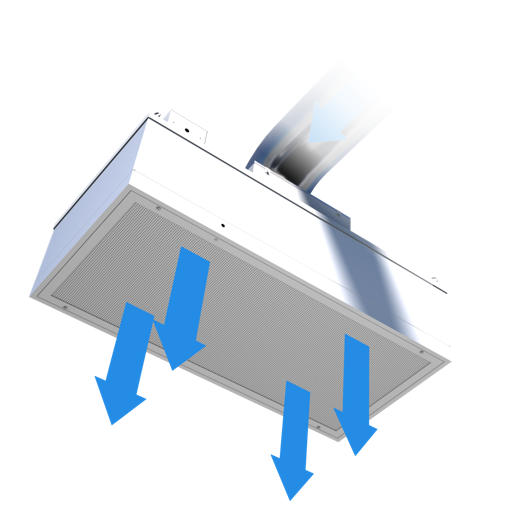 Airflow through a Supply Flow Fan Filter Unit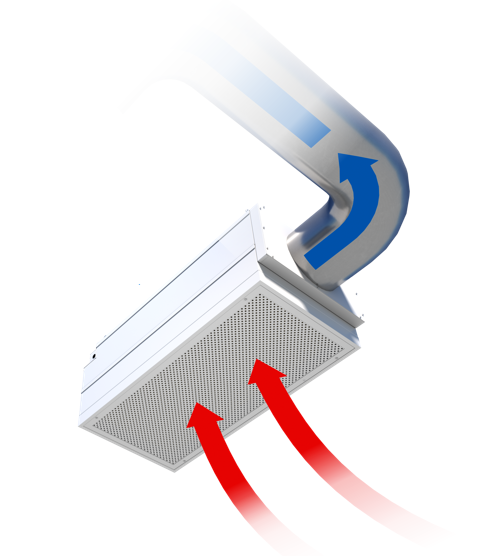 Airflow through an Exhaust Flow Fan Filter Unit
To learn about fan filter units, visit our website and stay tuned for future blog posts. Next week we'll be discussing "How to Apply Fan Filter Units" as part of a larger HVAC system.